Today we have the pleasure of introducing Iliana Pámanes, a Mexican artist from Jalapa. Iliana is a creative director, fine arts and drawing university professor with more than 70 solo and collective exhibitions in Mexico and internationally.
Her work is focused on illustration and drawing using both digital and traditional techniques and has been published in editorials across Mexico, Asia, Europe and the United States.
Her work is showcased through captivating images that evoke two dimensions: the emotional/spiritual and collective fantasies. The ironic use of allegorical elements and magical symbolism creates a unique language that communicates her romantic vision of existence as well as naivety; a mix between happiness and nostalgia.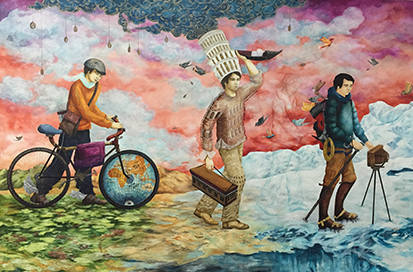 How and when did you decide to develop a career in art?
Since I was a young girl I loved to paint, without even thinking about the concept of art. I had no idea that art would be so thrilling for me on so many levels and at this age there were many distractions such as school, family and my sense of self as I began to grow and develop in the world.
The only thing I knew was that I loved to paint and draw. I didn't have a lot of knowledge about art, nor any influence from artistic parents, although they always encouraged me to take piano lessons, and I do remember there being many art books around the house.
It wasn't until I became a teenager that I changed my mind. I had initially wanted to study medicine but I decided to pursue art, living in the present without a clear idea of what I wanted to do exactly. I felt art was the right path because I loved it so much. I felt like this was my destiny.
The wonderful thing about life is that you never know exactly how things are going to turn out! Being able to live in the present moment is where the magic happens.
What are the main obstacles you have overcome as an artist?
I think the biggest obstacle has been myself. Sometimes setting so many expectations for yourself can cloud your true path. However, when we come to understand and accept the ups and downs of life and the occasional limitations, accepting to live with these makes the journey of life a little more bearable and allows you connect with your passions.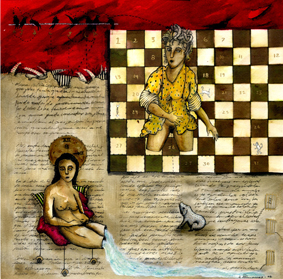 Which aspects of your culture and background inspire you or are seen in your work?
In my creative process, I always try to incorporate what I experience every day as well as my emotions and the experiences and emotions of others around me.
The characters I create are full of experiences that I live, see, and feel. I use rhetoric characters, especially the metaphor, and I form a language where the objects turn into characters. I build messages altering reality where the cigar turns into a pen and the smoke into floating objects, hooks with bait where everything is distorted to express my idea. It always depends on the context and what message my ideas transmit.
For example, with everything happening with COVID-19 currently, it makes me think of turmoil, with many people populating my portraits where I always have the possibility of recreating reality with metaphors in a dramatic or positive way, emerging from a place of reflection and my current mood.
If I'm feeling distressed, the work will reflect this with chaos. If I'm not, it might be something more uplifting. There is so much to communicate during these times.
I think that in being 'Latinx', the world generally associates us with magical realism, where you can almost always find aspects of faith, hope and God. I think we have a tendency of believing in the intangible and we connect with profound links that are not always visible and with emotions that are sometimes difficult to communicate.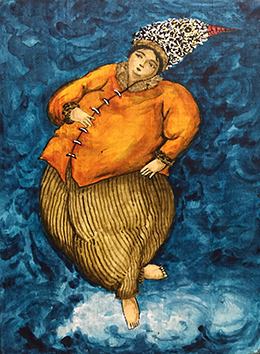 How do you see the future of art on the internet? What do you think could be new avenues of spreading Latin American art on the internet?
The first thing that comes to mind is the increase in digital exhibitions, sales and virtual artist chat forums. We're already seeing more activities like online concerts where you buy your ticket and you get to experience the moment live from anywhere in the world. We've also started to participate in having online auctions across various digital platforms.
Not long ago I had my first experience with an online exhibition from the Iberoamerican University of Puebla. Online galleries already existed, but I had never taken part in those experiences and I am grateful for the opportunity. However, being new to this, I can say I definitely miss the feedback and conversations with people in person. You can have thousands of streams online, but physically having the visitors there and interacting with them is priceless. I am convinced that online platforms will keep evolving. As artists we need to adapt and get more involved in this area.
It's not only the pandemic that is instigating this, but the global changes in general that push us to use social media more and search for online platforms that already exist. As artists, this helps us to integrate and get to know diverse art spaces and different niches globally that multiply the variable of supply and demand. It is important for us as artists to adapt to the digital world and master it.
I am sure that this is a point of transition for the art world, and we're going to reclaim our place as a moment of transformation. It's like a baby in a stage of development, we must be attentive and vigilant in order to understand and create these new structures in the art world. 
As an artist, I have also noticed changes in the ways we consume art. For instance, the found-object (objet trouvé) seeking new ways to become more accessible to consumers and how to express ourselves in these new forms.
We are reinventing ourselves .. It is a process of discovery and our mentality is also changing. Latinx people come from stubborn traditions and customs but we are resilient, emerging from our cocoon in search for better ways, and always with a smile on our faces!
You can check out Iliana's work here:
If you want to know more about Iliana you can check her social media down below.
Facebook: https://www.facebook.com/ilianapamanes
Email: artesilianapamanes@gmail.com
Instagram: @artesilianapamanes
Interview and editing: Ana Vite
Translation: María Fernanda Isaza Múnera and Katie Andrews